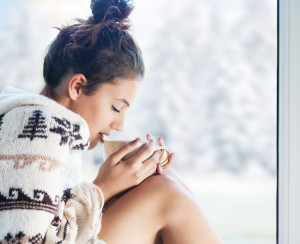 Are you ready to the Christmas season rush? Between shopping, cooking, parties, and wrapping up at work for the year, there is barely any time for you. Make some time to cozy up on the couch in your Christmas pajamas and read a great book while sipping on eggnog.
Limit the holiday shopping trips:
I know you always forget about your second cousin, John, so write out a list of every person you need to get a gift for. Don't worry about what you are getting them, just write down their name. Once you have their names, create your budget for each person. This will ensure you don't break the bank this Christmas season.
Now, write down the gifts you would like to get for each person and categorize the gifts by stores so you don't have to run in circles while out shopping.
Start Eating Healthy Now
Crash diets don't work and they are not good for you. Start eating healthy now to shed a few pounds and get your skin glowing. This will limit the stress of all those Christmas parties with ex-boyfriends and future love affairs.
Also, pick clothes you are comfortable in. Yes, the tight black number you have in the back of your closet probably looks great on you, but you'll be self-conscious the whole night. Don't do that to yourself, it's not worth it. Wear something that makes you feel amazing. Confidence does wonders.
Ditch Time-Consuming Beauty Habits
Get into a beauty routine. Don't waste your time every morning trying out new make-up techniques that only turn out bad and have to be re-done. Figure out the look you like and go with it.
Invest in dry shampoo. If you have not already made the switch to dry shampoo, you are missing out. This will save you tons of time while getting ready. Just spritz some in your hair for a refreshed on the second or third day after it has been washed.
Get rid of the razor. Shaving takes up lots of time and no one enjoys doing it. This holiday season start laser hair removal. Never again will you have to keep your arms down at a party because you forgot to touch-up your shave job. Increase your confidence and free time.