Even if you love your tattoo, there have probably been times you wish it had an invisibility button. This process is not as easy as an invisibility button, but will work just as well. So lets get to it and make your tattoo disappear!
Prep and Prime
Exfoliate, Hydrate, Prime.
By starting with exfoliation, dead skin will be removed, giving you a fresh, smooth surface to work with. Exfoliat will also prep the skin to be hydrated. When exfoliating, your pores open up. If you apply moisturizer immediately after, the open pores will absorb more moisture at a faster rate. This will cut down on extra oil sitting on the top of your skin, in turn making the make-up stay on longer. To extend the life of the make-up applied I also recommend using a primer. This will create a layer between the makeup and any oils on your skin. You can also get a yellow based primer to help reduce the appearance of color, while still getting natural results in the end.
Find Your Perfect Match
Perfect means perfect. Don't settle for less.
Listen to your Momma and don't settle for a color that is a little off. This is important for a natural looking finished product. If the color does not match, the result may look caked on or orange. If you need help determining the perfect color, you can visit your nearest Sephora store and have an associate use their Color IQ system. This system identifies the correct undertones for your skin. This is hard even for a trained human eye. (Guys: don't be embarrassed. Sephora associates are makeup artists and will love to hear about your project.)
**Tip: Don't use regular face foundation. It is a lighter-weight formula and will not last or cover the colors in your tattoo as well as body foundation will.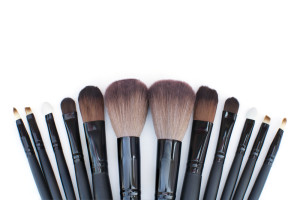 Apply & Repeat 
Finally, it's time for the magic.
You will want to use a brush for the application process. I recommend a set of synthetic foundation and concealer brushes. You can buy a cheaper set at your local drugstore, or invest a little money in a nicer set the will hold up better. Body foundation is very thick and tacky. If you use your fingers, it will take a lot of extra effort to remove the make-up from your nail beds, an no one has time for that.
Once you have your brushes, add an even layer over the tattoo with the foundation brush. Make sure to blend the edges into your skin. Now, take the concealer brush and even out any un-even spots or places that need extra blending on the edges. One layer is most likely not going to do it. Wait a few minutes for the previous layer to dry before adding another layer. This will keep the area looking natural, instead of caked on. Also, make sure you put thin layers on. It takes a little longer, but is worth while.
Ready, SET, Disappear
You're almost done, promise!
Using a big powder brush, liberally press finishing powder on top of the last layer of foundation. You should be able to see the powder sitting on top of the area. Let the powder sit for about 5 minutes before gently dusting it off with the same big powder brush.
Annnddd…. Abracadabra, your tattoo has magically disappeared.
If you find yourself completing this process regularly, you may want to look into a more permanent solution, check out laser tattoo removal.